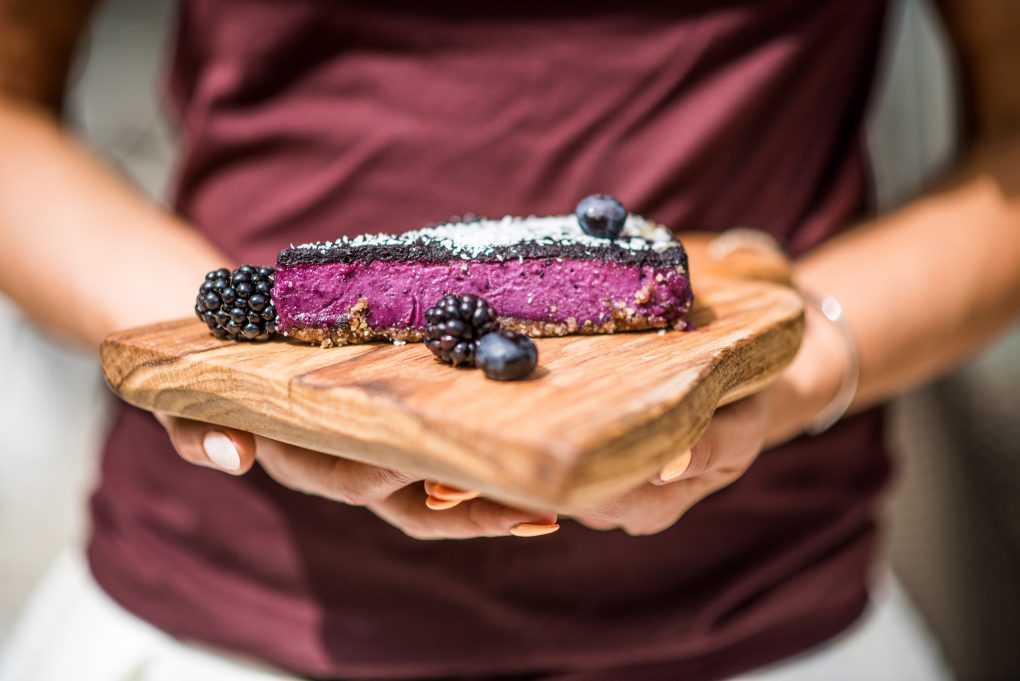 People! Summer has officially landed!!! Meadows are full of blossom, sun is shining, days are long and warm, and on top of it all, forest fruits fresh off the shrub!
Ingredients:
½ cup pitted dates
½ cup almonds
pinch of sea salt
¾ cup cashew nuts
2 tablespoons lemon juice
zest of lemon
3 tablespoon coconut oil
1/3 cup coconut milk
1-3 tablespoon maple syrup
25 g fresh blueberries or bilberries
lyophilized blueberry powder
2 tablespoon bilberries
Coconut flakes
Hooray!
Today, I'd like to focus on blueberries or more like a purple feast for the palate and a portion of health for the body. Not everybody knows that they contain a lot of antioxidants and enhance immunity. Plus, they are rich in micro- and macroelements, such as calcium, phosphorus and potassium.
Raw vegan blueberry cake:
Preparation:
First, I blanched dates and soaked them for 15 minutes. Next, I added almonds and salt and mixed thoroughly. Then I scraped the mixture into a springform pan and put into the fridge for one hour.
Meanwhile, I started to prepare the filling – I used a blender on all the ingredients to create a homogeneous mass. Afterwards, I poured it into the springform pan, onto the first layer of the cake, and now it was ready to be taken back to the fridge; this time for 4 hours.
To begin the final series of steps, I mixed bilberries with lyophilized blueberry powder. Next, I put the icing on top of the cake in the springform pan and put in the freezer for 10 minutes. Finally, I sprinkled it with coconut flakes. It's a good idea to use a wet knife for cutting it.
It tastes like heaven, and it's a promise!!!