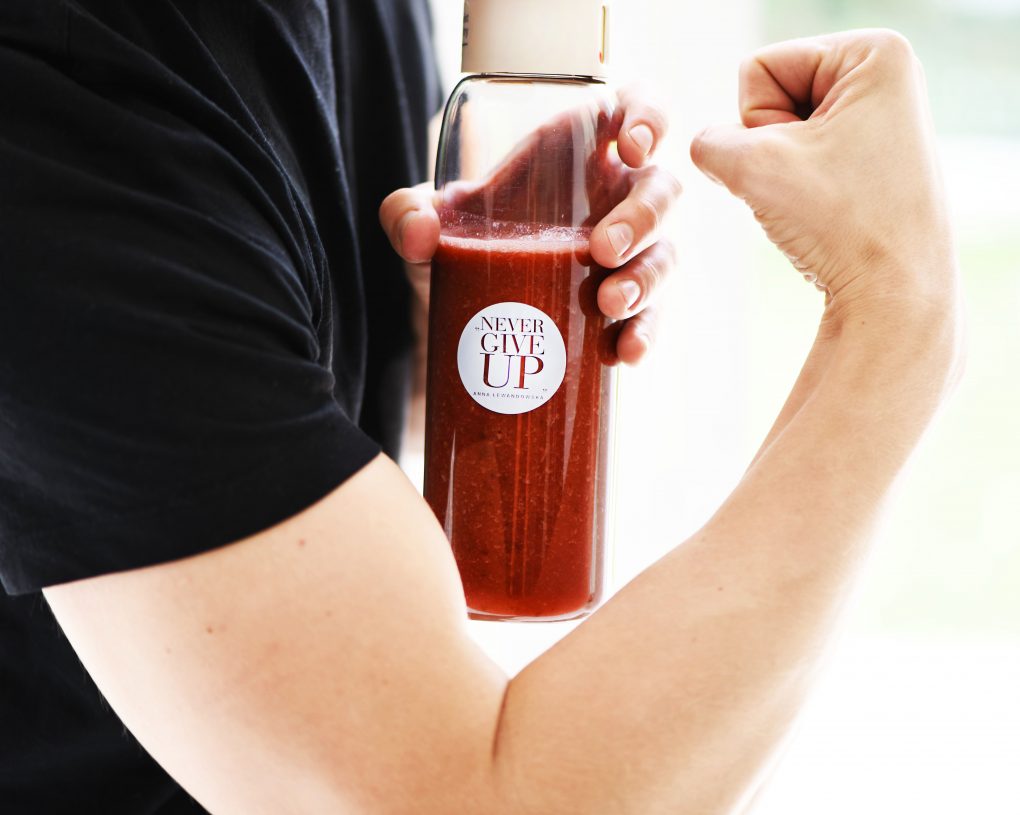 Athletes are well aware that during intense exercise apart from water they also lose valuable minerals and carbohydrates. This makes it much harder to recover and regain strength.
A good way to quickly return to the form is to supplement micronutrients by drinking ISOTONIC BEVERAGES.
Isotonics are the perfect solution to provide you with lost minerals such as sodium, potassium, magnesium, calcium and chlorine. This is because they have the same concentration as body fluids, so they are easier to absorb.
The basic ingredient in isotonic drinks is water, which has a great effect on our efficiency, but does not add energy. Care should be taken to adequately hydrate, as even 5% of water loss in the body results in a 30% decrease in fitness and endurance.
The isotonics are sodium, which affects the better absorption of water, electrolyte balance and the right body temperature. The other ingredients are potassium, magnesium and calcium, which are responsible for our muscular and nervous systems. In addition, such drinks include carbohydrates such as sucrose, glucose and fructose. They are a good source of energy and therefore allow for longer workouts.
Isotonic drinks should be consumed during sports activities lasting more than an hour.
Do not reach for them if you want to lose weight because your body will draw energy from them instead of burning the stocks you want to get rid of.
If your activity lasts for an hour, it is enough to replenish the fluid with water or diluted juices.
When you exercise for more than an hour, you need isotonic drinks to add energy, make fluids, and prevent your body from overheating.
Drink them always with small sips, preferably lightly chilled.
Dear athlete 🙂 I have prepared for you some recipes for isotonic drinks that you can prepare yourself. I am putting on natural home remedies that I have always suggested to my athletes.
Recipes:
200 ml of concentrated fruit juice (ex.pomegrante, orange, pineapple), 800 ml of water, teaspoon of Himalayan / sea salt
4 flat tablespoons of honey (or maple syrup), 900 ml of water, 1 lemon / lime juice, a teaspoon of Himalayan / sea salt, a pinch of cayenne pepper
Half a liter of apple juice, lemon juice, 2 flat spoon of honey, 400 ml of mint / nettle brew, half a scoop of magnesium  powder, teaspoon of Himalayan / marine salt
2 tablespoons of honey, 1.5 liters of medium mineralized water, a teaspoon of Himalayan / sea salt, ginger (thumb size,
After physical activity, it is time to regenerate. Never take it as an unnecessary supplement, because it is an integral part of your workout. Beginners athletes move with enthusiasm to the gym every day and do not want to hear about the day off. Meanwhile rest is necessary for muscles to regenerate and ready for the next training. Too intense exercises bring the opposite effect to one the desired.
Never forget about regeneration, a healthy diet and the right amount of sleep to keep you healthy and fit.
Use products that will help  you to rebuild energy resources.
Remember about  turmeric because:
It accelerates muscle regeneration and reduces their pain,
Improves metabolism
It works great for joint disease treatments
Used in anti-cancer treatment.
Is a strong antioxidant.
A valuable ingredient in the athlete's diet are also beetroots, which:
Lower the blood pressure,
Contain antioxidants
They improve the work of the heart
Are a rich source of folic acid (important supply for anemia)
For isotonic drinks I also add a pomegranate. This fruit also has many healthy properties:
Contains antioxidants that accelerate post-workout regeneration, inhibit aging processes,
Grenadine reduces edema,
Supports anti-cancer treatment,
Lowers the pressure,
Has anti-inflammatory effect
Protects the heart
Adds energy and vitality.
The taste and properties of isotonics can be enriched with date, which is:
The wealth of simple sugars,
Source of additional energy
Complete with glycogen deficiency
Potassium source
My suggestion for SHAKE REGENERATION after TRAINING

Shake I:
Ingredents:
1 teaspoon of grated fresh ginger
1/2 teaspoon of turmeric
1/4 teaspoon of  cayenne pepper or black pepper
coconut water or still mineral water
pinch of himalayan salt
forrest fruits
100 ml of pomegranate juice 100 %
Shake II
Ingredients:
 3 cooked beetroots
150 ml pf coconut milk
½ teaspoon of turmeric
½ teaspoon of cinnamon
1 date
Blend it and enjoy!