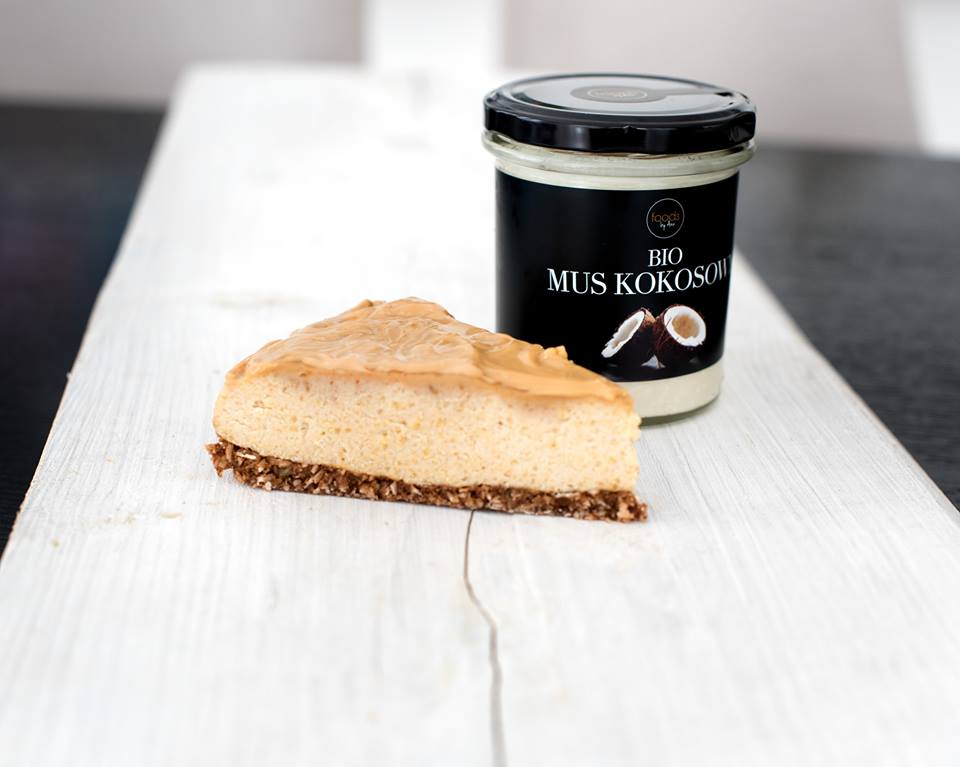 Pure heaven:) Cake with rafaello and snickers taste!
The biggest interest on the blog lately is for sweets and cake 🙂 You write about cravings in connection with the winter and unfavorable aura.
Ingredients (batter):
10-12 dates
2 cups coconut flakes
1 tablespoon coconut oil
Ingredients (white filing):
250 g millet
1 teaspoon coconut oil
1 cup plant milk
3 teaspoons coconut sugar
around 100/150 g coconut paste from Foods by Ann
half lime juice
Ingredients (glaze):
4 tablespoons peanut butter
3-4 teaspoons coconut sugar
250 ml coconut milk
Fortunately for me till now i didn't face any pregnancy cravings, but I did especially for you and for my loved ones cook something healthy. let's say this is my craving:) … .and that I have a weakness for COCONUT MOUSSE …
it's not without reason that I introduced this product made from organic sources to my shop Foods by Ann 🙂 I know one thing, the one who likes the taste of coconut – will be overwhelmed: ))))
Warning! This cake is addictive and disappears from the plate at a rapid pace.
Cake – mix of rafaello / snickers flavours, healthy version with coconut and nuts
Preparation: 
Remove the seeds from the dates, pour  with boiling water and soak for 15 minutes. In a blender I prepared ingredients for the dough. than i placed it in a circular baking tray, and I put it immediately to the refrigerator.
At the same time I cooked millet (previously rinsed 2 times under running water). At the end of cooking when the water began to absorb i added the milk  and cooked until absorbed. I set the lid to cool ( outside – because its cold outside the window;)) Then I mixed the cooled millet with other components of the mass. I poured it on top of the dough and then place it back in the refrigerator – approx. 30 minutes.
So its time for glaze 🙂 In a saucepan, stirring over medium heat I warmed coconut milk with sugar and peanut butter. I poured the glaze on the cake and I place it in the refrigerator overnight.
I will say this, if you like coconut – peanut flavor this cake will be a star.